SOUND SYSTEM RENTAL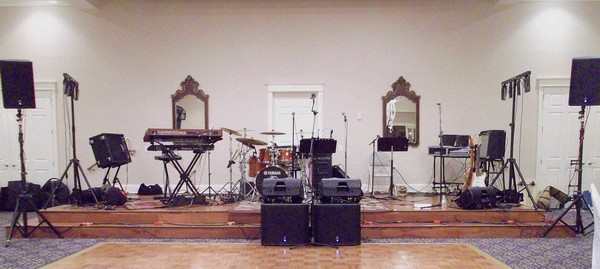 STILL HAULING YOUR OWN SOUND?
Very nice sound system now available for rental in the DMV area at very reasonable rates.
'Specially good for jazz & folk, and with the inclusion of 2 1200w 18" subs, can kick for Rock too.
Call me, tell me about your gig, show, conference or event.
Paul
443 540 2588
SYSTEM
FRONT

6 Kw Electrovoice EKX & ETX powered speakers -
2 x 18" subs,
2 x 12" tops

MONITORS

Up to Seven independent mixes -
6x wedges EV ZLX 12P,
1x Drumfil EV ZXA1


CONTROL

32R 32-channel Rackmount Digital Mixer
Splitters
Dell Inspiron 15 7000 Series
Samsung Android Pad
Power Conditioner, UPS
1 x 50ft 12 x 4 drop snakes
1 x 30ft 12 x 4 drop snake
Stage Power distribution


MICS

Small Diaphragm Condenser

AKG C 430 (2)
AKG P 170 (2)
MXR 603 w/omni caps (2)


Dynamic

audix D6 (1)
EV RE 320 (1)
Beyer M201 (1)
Sennheiser e604 (4)
Sennheiser e609 (2)
EV PL 50A (2)
Sennheiser e835 (6)
Shure SM57 (3)



DI


2 EWI LDB-101 Active DI boxes
1 EWI FDB-202 Two Channel Passive DI Box
3 Whirlwind's IMP 2 Passive DI Box





Will cover up to 500 people nicely,
Professionally wired stage,
Comes with competent engineer
---
---
---
Paul
Cell 443 540 2588
Contact